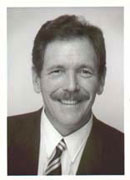 Lon Neese grew up in Beloit, Wisconsin and graduated from Phillips Exeter Academy, Northwestern University and the University of Pennsylvania's Wharton School. After working in public accounting and earning his CPA certificate in Philadelphia, Pennsylvania, he returned to Wisconsin to join Beloit Corporation, a leading industrial company, where he progressed from assistant controller to general manager of the largest division. He also taught evening courses in financial accounting at Beloit College, a local liberal arts institution.

Upon the sale of Beloit Corporation in 1986, he was instrumental in forming NEMO Capital Partners, L.P., a private investment partnership, on whose investment committee he continues to serve today. In 1996, Lon formed Neese Advisory Services, a fee-only investment consulting firm in Atlanta, Georgia, that focuses on financial planning and portfolio analysis and design for individual investors.

Lon and his wife, Debbie, reside in Atlanta, Georgia. Lon serves on the board of trustees of Randolph-Macon Academy in Front Royal, Virginia, a college-preparatory school that features Air Force Junior ROTC; and is President of The Beloit Foundation in Beloit, Wisconsin. In his spare time, Lon enjoys family, golf, travel and long walks with Debbie.